66th Year of Republic Day Celebrations: Two Leaders, Two Thoughts and One Agenda!!
After laying my father to rest and bidding him goodbye; for a while, I felt as if everything has come to a sudden halt. But sooner realized that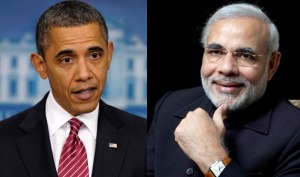 nothing remains inert and life moves on at its promised pace. Things outside seem to undergo a radical change, especially with the Republic Day celebrations just round the corner.
This time, the 66th Republic day celebrations, is a much awaited event! While US President Barack Obama has plans to make it up for our Republic Day, on his terms of impermeable security; the news hitting on the security seals really seeks attention! I guess they actually want us to abide to the popular dialogue that we get to hear in our movie buffs-"Parinda bhi Par na Mar sake". Common, I mean shall this be the same treatment when even our delegates make a visit to US? Or is there an intention of creating VVIP bias?
Although the political boundaries seem to be getting fader, we all expect economic results to be leveraged through his visit. After Modiji's Government took to the wheel, the progressive momentum appears to shape up in all the directions.
With his aggressive social and economic reforms, I find this man with a different mettle, who is all set to change the image of the country on the global canvas. His speak at Airtel Economic Times Global Business Summit has probably made his audience swoon and all eyes are set at the target of $20 trillion economy vision (source: economictimes.indiatimes.com › News › Economy › Policy)
Barack Obama's visit to India apparently is making the headlines, but the red carpet treatment that US embassy seeks seems to be mocking. After their audacity to refuse Modiji's US visa earlier, this country now looks forward to occasion where both the countries can share a dais. Well, each one has their own takeaway, none the less, until they come to a win-win situation.
While some have gone berserk with Modiji's $20 trillion economy vision, I prefer to wait until I get to relish something really interesting on my business plate!